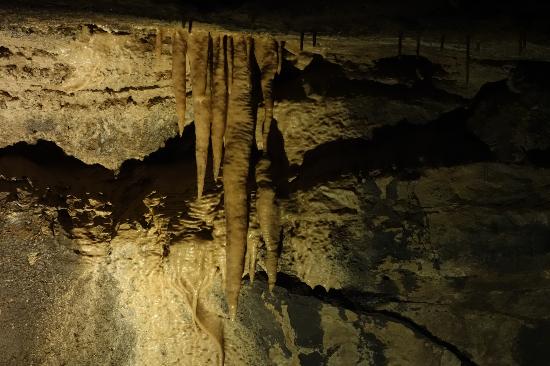 The Aillwee Cave, from the Irish Aill Bhuí meaning "Yellow Cliff", is located in an area known as "The Burren" - a rocky area made of limestone. The cave has been dated as being over 350,000 years old and is one of the oldest such caves in county Clare. It was formed by rainwater slowly disolving and eroding the limestone rocks, coupled with the action of an underground stream.
Although about 900m in length, the first 300m (1000 feet) are open to the public. There are some spectacular examples of waterfall, stalactites and stalagmites visible.
Located next ot the Aillwee Cave is the Birds of Prey Center which aims to both educate and entertain visitors about birds of prey and to assist with conservation. Here the visitors can see eagles, falcons, hawks and owls, with flying display demonstrations throughout the day.
The Aillwee Cave and Birds of Prey Centre is located near Ballyvaughan off the N67/R480.
For infomation about opening hours and admission prices click the "More info" link below.
Ballyvaughan, Co. Clare, Ireland
53.089180313866,-9.143676817993