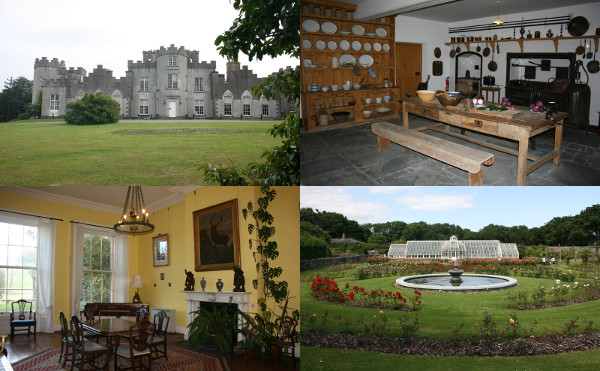 Ardgillan Castle is a large and beautifully presented 18th century country house, complete with period paintings and furniture. It has a traditional rose garden, walled garden and is surrounded by parkland which is great for walking and cycling.
The central section was built in 1783 under the ownership of Reverend Robert Taylor; the east and west wings were added in the late 1800s. The name Ardgillan comes from the Irish "Ard Choill" meaning High Wood as the area was heavily wooded and trees had to be removed to make way for the construction. The clearing was done by service soldiers and itinerant workers who were paid one penny per day with sleeping accommodation and one meal provided to them.
The property remained the family home of the Taylors for more than two hundred years and was sold to Heinrich Potts of Wesphalia, Germany in 1962. In 1982 it was puchased by Dublin City Council and is now managed by the company Ardgillan Castle Limited under the auspices of Fingal County Council.
The construction consists of two storeys over a basement in which the kitchen and stores were located. The building has been completely restored and a guided tour enables visitors to view the ground-floor rooms and kitchens.
Ardgillan Castle is located approximately 35km north of Dublin city centre
Tea-rooms provide a nice opportunity to have a snack and relax. This is a great venue for an inexpensive day out with things to interest both adults and children.
Click the "More info" button to obtain details of opening times and guided tour prices.
Balbriggan, Co. Dublin, Ireland
53.586641637908,-6.160242866409