Dunbrody Famine Ship and Irish Emigrant Experience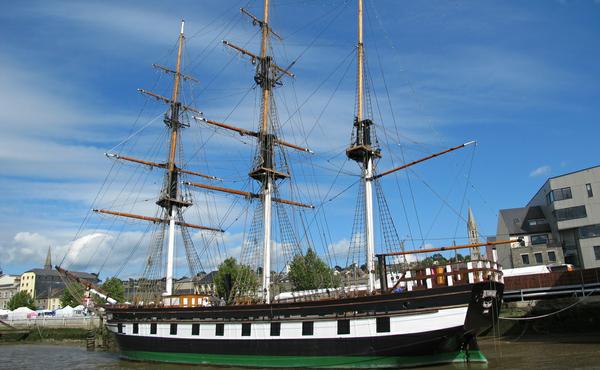 The Dunbrody Famine Ship is an authentic reproduction of an 1840's emigrant ship of the same name. The original vessel was built in 1845 in Quebec as a cargo ship and was initially used to ship timber from Canada, cotton from the southern states of the U.S.A. and guano from Peru. However, the Great Famine of 1845-52 saw a mass emigration from Ireland. There was a shortage of passenger ships and so the Dunbrody was fitted with bunks and used to carry passengers from Ireland to Quebec.
Due to lax regulations and poor enforcement, between 160 and 300 passengers were carried at a time. Conditions on board were crowded, and many people died on the way.
The Dunbrody Famine Ship and Irish Emigrant Experience tells the story of the brave and desperate people who had to leave Ireland in the hope of a better furture in North America. If you are descended from an Irish emigrant or are curious to know what it was like to have been an emigrant at that time, costumed actors and tour guides with replica below-deck conditions will help bring the experience to life for you. It is a moving one!
The Dunbrody Famine Ship is located at the quayside in New Ross.
For details of opening times and admission prices click the "More info" link below.
New Ross, Co. Wexford, Ireland
52.393567017906,-6.947827377249
€8.50

There may be other price categories (possibly higher or lower) available. Click the 'More Info' button for details.