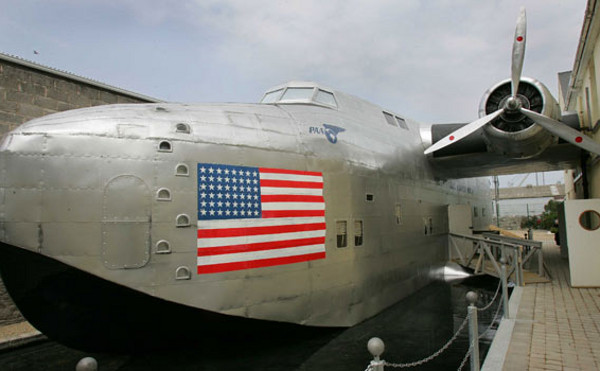 The Flying Boat Museum in Foynes on the Shannon estuary helps us remember the pioneering era of transatlantic aviation from 1937 to 1945. There is a full-size replica of a Boeing B314 flying boat, flight simulators, a radio room a weather room and a 1940's era cinema.
The Boeing 314 "Clipper" was an airplane which took off and landed on water, and so Foynes on the sheltered Shannon estuary was an ideal location to locate a terminal for transatlantic flights. There was not need to build a concrete runway. Pan Am introduced a service from Botwood in Newfoundland to Foynes, turning Foynes into a transport hub for Europe.
Passengers on the B314 enjoyed a high level of service. They had their own cabins, with beds to enable them to sleep, a dining room with waiter service, linen tablecloths, crystal glasses etc.
During the period 1937 to 1945, the Flying Boat service carried some military personnel, celebrities and also some refugees from the war. The museum has a collection of memorabilia, photographs and artefacts from the period.
There is a 3D hologram which takes visitors back to 1943, and the night when the Irish Coffee, now a well known and loved drink, was invented at Foynes airport restaurant. Visitors can also enjoy the drink there after their visit.
The Flying Boat Museum is located on Main Street, Foynes overlooking the Shannon Estuary and 38km west of Limerick city. It lies on the N69 route, a section of the Wild Atlantic Way. Click the map pin icon to view the location on a map.
For information about opening hours and admission prices, click the "More info" button below.
Foynes, Co. Limerick, Ireland
52.611610285102,-9.109813708004
€11.00

There may be other price categories (possibly higher or lower) available. Click the 'More Info' button for details.