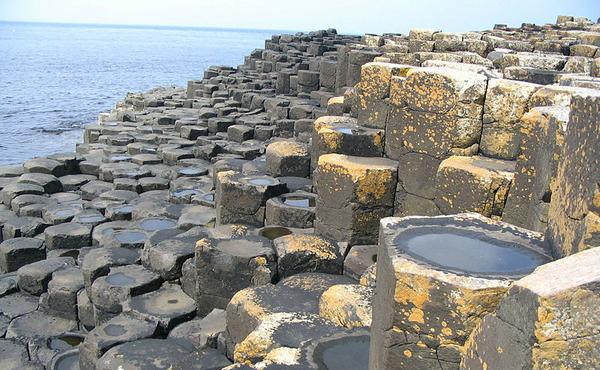 The Giant's Causeway is an area of coastline in county Antrim. Its interlocking basalt columns, many of which are hexagonal, make it a spectacular place to visit. It is a UNESCO World Heritage Site.
The unusual formation of hexagonal, pillarlike structures, was formed over 50 million years ago by volcanic activity. Molten basalt was pushed through chalk beds, and as it cooled it contracted and fractured resulting in the shapes we see today.
Such unusual shapes and rock formations gave rise to legend, myth and folklore of giants and Fionn MacCool. The curious can find out more at the Visitor Centre
Pedestrian access to the Giant's Causeway is free. Access to the Visitor Centre incurs a fee which includes parking. If you purchase tickets online in advance a discount can be obtained.
The Giant's Causeway is located on the county Antrim coastline 3km north of the town of Bushmills on the B146 road. Click the map pin icon to view the location on a map.
For further information, including Visitor Centre opening hours and admission prices, click the "More info" button below.
Silvernails Road, Bushmills, Northern Ireland, BT57 8SU, Ireland
£9.00

There may be other price categories (possibly higher or lower) available. Click the 'More Info' button for details.