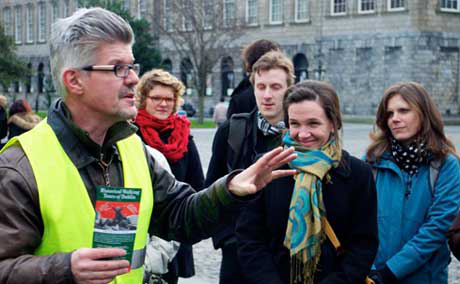 This is the Fáilte Ireland approved and award-winning tour which is both educational and entertaining. It explores the main features of Irish history, taking you to some of the most significant historical sites and putting modern Dublin in a historical context.
The tour guides are history graduates of Trinity College Dublin and the National University of Ireland. The roots of modern Ireland are shaped by past events: global events such as the American and French revolutions and the Great War, and national events such as the 1916 Rising, the War of Independence and the Northern Ireland conflict. Discover how these impacted Ireland and its people.
"Historical Walking Tours score 10/10 for educational value, 10/10 for entertainment value and 10/10 for outstanding blend of history and humour. The Original Dublin walking tour is still the best!"
Irish Times
The tour begins at the Front Gate of Trinity College, and visits Trinity College, the former House of Lords/Old Parliament, Temple Bar, the Four Courts, Christ Church Cathedral, City Hall, Dublin Castle, Grafton Street, The Mansion House and St Stephen's Green.
Tour duration: 2 hours
Front Gate, Trinity College, College Green, Dublin 2, Ireland
53.344446042469,-6.259034507935
€12.00

There may be other price categories (possibly higher or lower) available. Click the 'More Info' button for details.