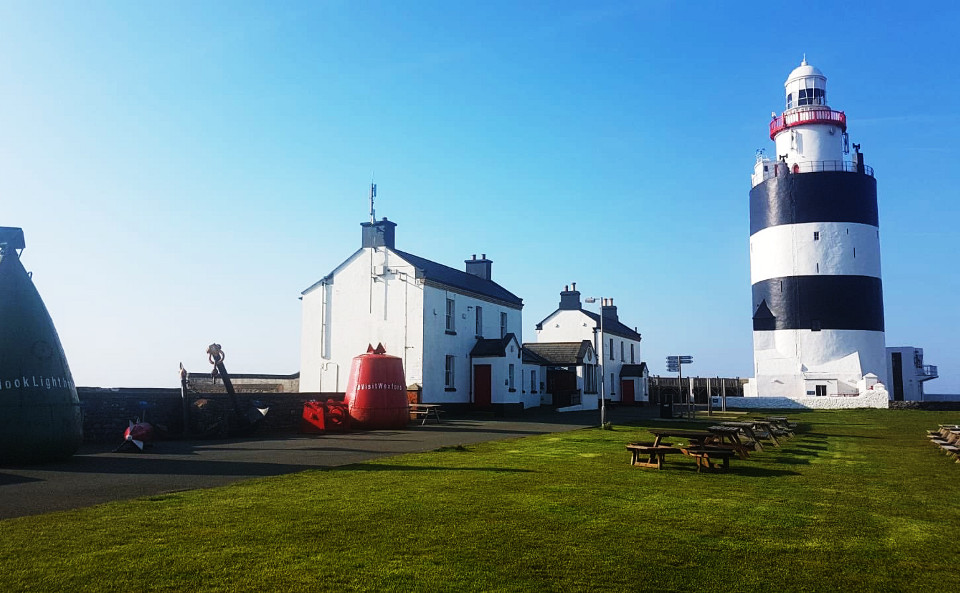 Hook Lighthouse - Origins
Visitors can explore this 13th century lighthouse - the world's oldest working lighthouse. Discover the history of "The Light" back to 5th century monks and a knight from the 6th century. Ascend the spiral staircase & discover interesting stories about the history of this lighthouse as you go.
Try to Discover
How many steps does the spiral staircase have?
How many wrecked ships lie in the sea off Hook Head?
What role did the monks play in the history of the lighthouse?
Visitor Information
Visitors may also be able to spot dolphins, seals and possibly whales from the top of the lighthouse. It is also a great vantage point for taking selfies and photographs of the Wexford coastline.
In 2018 Hook Lighthouse was shortlisted for the Best Tourism Project in Ireland and the UK award by the British Guild of Travel Writers.
The guided tour lasts about 30 minutes.
Visitors can also enjoy some homemade food, snacks and refreshments, and visit the gift shop and exhibits in the visitor centre which is located in the former lighthouse keepers' houses.
Visitors are advised to book online in advance of their visit to avoid delays and disappointment. For information about opening hours, ticket prices, and to book online, click the "More info" button.
Hook Lighthouse is located on the southernmost tip of the Hook peninsula, 48 km (a 50 minute drive) south west of Wexford town. There is a free car park for visitors. Click the map pin icon to view the location on a map.
Hook Head, Churchtown, Fethard-on-Sea, Co. Wexford, Y34 KD93, Ireland
52.123442775623,-6.930736341406
€9.00

There may be other price categories (possibly higher or lower) available. Click the 'More Info' button for details.