Irish Agricultural Museum and Johnstown Castle Gardens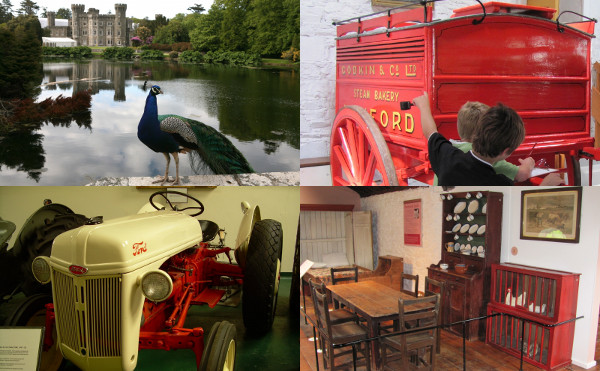 If you are curious about what farm life, farm tools, early farm machinery (including tractors, ploughs and threshing machines), dairy equipment, farm kitchens, and Irish country furniture looked like through the ages, and would like to see a fine example of an estate house ornamental garden complete with peacocks strutting their stuff, then this is the place for you.
The Irish Agricultural Museum houses a very broad and interesting collection of restored farm tools, machinery and early tractors. See how farmers used power-driven machines to increase their productivity prior to electrification.
The country kitchen has also evolved significantly over the year, with mechanisation and electrification easing the burden of meal preparation, cooking and washing. Trace this evolution by looking at replica kitchens from the 1800s, 1900s and the 1940-50s.
The museum also highlights the impact of the Great Famine caused by potato blight in the period 1845-52. It portrays the economic, social and scientific aspects of the famine and its importance in Irish, European and world history.
Johnstown Castle Gardens were designed by Daniel Robertson, who also designed the gardens at Powerscourt in county Wicklow. Although Johnstown Castle itself is not open to the public, the gardens, with its lakes, provide a beautiful location for a walk or stroll.
The Irish Argricultural Museum and Johnstown Castle Gardens is located 7km south west of Wexford town. Click the map pin icon to view it on a map.
For further information, including opening times and admission prices, click the "More info" button below.
Johnstown Castle Estate, Johnstown, Co. Wexford, Ireland
52.293159610118,-6.504675486018
€8.00

There may be other price categories (possibly higher or lower) available. Click the 'More Info' button for details.