Irish Workhouse Centre - Portumna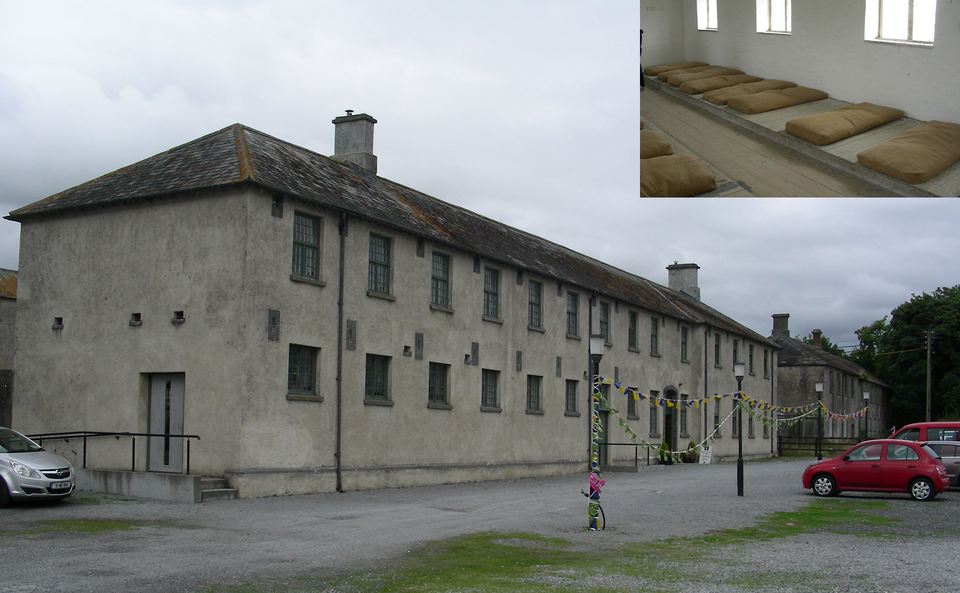 Described as "the most feared and hated institution ever established in Ireland", the Workhouse or poorhouse was the 19th century's social welfare system and society's response to the poorest of the poor. As a concept, they were held in very low esteem and surrounded with a stigma of shame and embarrassment.
When operational, they were funded by taxes on the local landowners. Their function was to provide very basic needs to the destitute: a roof and food in exchange for work. The accommodation was primitive: basic straw mattresses on the floor in the dormatories.
Food
The commissioners of the workhouse wanted to ensure that the workhouse diet would not be superior to that available outside. An inmate's breakfast typically consisted of a small bowl of stirabout, which is a watery porridge, and a cup of milk. Dinner consisted of potatoes and a cup of milk. Adults received just two meals per day while children received three.
Work
The daily work consisted of cleaning, laundry and grinding corn for the women, while the men were set to breaking stones for road building. The guiding philosophy at the time was that the work done should not compete with businesses outside the workhouse. Thus, much of the work was work for work's sake, not being of any particular use, and not giving the men any satisfaction from the work they did.
A Last Resort
The Workhouse was seen as a place of last resort - and that was how the authorities wanted it to be. They didn't want the system to be abused by lazy people. They discouraged people from coming in. An example of this was the rule that the whole family had to enter together. This was to seen as a way for landlords to clear tenants off the land who were unable to pay the rent. Once a family was admitted, they were split up into men, women, boys and girls. Only very young children (aged 2 years or less) could stay with their mothers. Sometimes they never saw each other again.
The Alternatives - Emigrate or Die
For many, the thought of falling so low as needing to go into the workhouse was unbearable and too shameful. Many people emigrated. England, Canada and the United States of America were seen as lands offering hope and new opportunity. When the Great Famine struck in 1845, the number of people in dire poverty jumped upwards. The workhouses struggled to accommodate those who came. One million people from this small country emigrated, and unfortunately, another one million people died of starvation, and this while the wealthy, always wanting to sell for the highest price, exported Irish grain to England.
If you are not living in Ireland, but are of Irish descent, your curiosity about your ancestor's history may take you here to the Irish Workhouse Centre when you visit Ireland on vacation. Were your ancestors among those who emigrated from Ireland in the second half of the 19th century? Wouldn't you like to find out more about what Ireland was like at that time? Come, visit and discover more!
Neglect or Restore?
163 workhouses were established in Ireland starting in the 1840s and many continued to operate into the 1920s. They were abolished shortly after Ireland obtained its independence from Britain. Since then, many have fallen into disrepair, or have been demolished
For many, due to the stigma associated with them and the suffering endured by the people who stayed there, one can understand if the local townspeople would be quite happy to see the back of these buildings and to allow them to decay or be demolished. Some workhouses in the country are used as modern day nursing homes (care homes) for the elderly, although some older people are reluctant to enter them because of the legacy association with the workhouse.
Workhouses are the uncomfortable, embarrasing and dark side of Ireland's history, but they should not be brushed away and forgotten. Their dark stories needs to be told. The Workhouse Centre at Portumna is doing just that. Certain sections of it have been restored and one can take a guided tour by expert, friendly and informative guides. It is run by a non-profit local organisation and volunteers.
A visit to the Irish Workhouse Centre in Portumna is highly recommended by us to culturally curious visitors who are interested in Irish heritage. We found our visit highly informative. It was encouraging to also hear some of the good stories from the past, although the theme was predominently dark and horrific. It was good to see the great restoration work that has been done so far, although there is still so much more to be done. Go along, visit and encourage them onwards.
The Irish Workhouse Centre is located in Portumna town. Click the map pin icon to view the location on a map.
For information about opening hours, and other visitor information, click the "More info" button.
St Bridget's Road, Portumna, Co. Galway, H53 EK74, Ireland
53.099176163701,-8.223755446723
€7.00

There may be other price categories (possibly higher or lower) available. Click the 'More Info' button for details.