Lissadell House and Gardens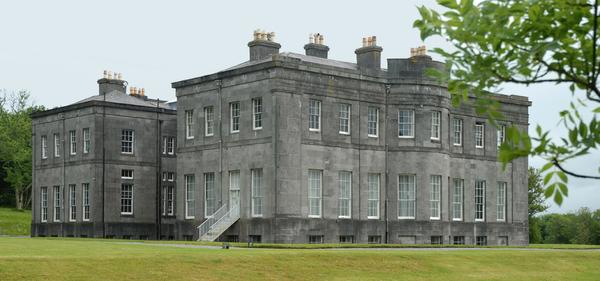 Lissadell House was built for Robert Gore Booth, who commissioned English architect Francis Goodwin to design it. It was completed in 1836. It uses locally cut grey limestone and its architecture style is Neo-Classical Greek Revival.
The house and garden fell into a state of disrepair and neglect during the second half of the twentieth century and was sold to the current owners, the Walsh Cassidy family in 2004. They began extensive restorations, doing a significant amount of the physical work themselves.
During the restoration, some original features which had become covered up were discovered, such as the flagstone path and cobblestone drains which were constructed during the famine relief works.
A dispute arose between the owners and Sligo County Council regarding several public rights of way through the estate. They lost their case in the High Court in 2010 and appealed to the Supreme Court which found in their favour. The family could again concentrate on the restoration of the house and gardens. 2014 saw the long awaited reopening of Lissadell House and Gardens open to the public who can now visit and take guided tours. The guided tour lasts approximately 45 minutes.
Lissadell House is a home for the Walsh Cassidy family, and the upper floor is for their own private use and is not included in the tour.
The Alpine Garden had become completely overgrown and was described by visiting locals as an impenetrable jungle. Today, after much work and expertise, it has been restored and contains wonderful Alpine rockeries, ponds, shrubs and vibrant flowering plants.
Visitors can also relax in the tea rooms and enjoy some homemade quiches, scones, salads, baked goods etc. They can also purchase Lissadell organic fruit and vegetables and homemade chutneys and jams.
Lissadell House and Gardens is located 15km north west of Sligo town. Click the map pin icon to view the location on a map.
For visitor information including opening hours click the "More info" button below.
Lissadell, Ballinfull, Co. Sligo, Ireland
54.346823932044,-8.580907078261
€12.00

There may be other price categories (possibly higher or lower) available. Click the 'More Info' button for details.