Muckross House, Gardens and Traditional Farms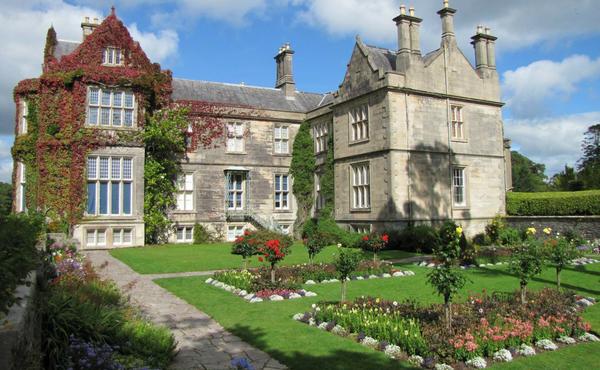 Located in the beautiful Killarney National Park with its famous Lakes of Killarney and surrounded by mountains and woodland, Muckross House and Gardens couldn't be in a more perfect setting. Muckross house is a fine example of a 19th century Victorian mansion and visitors can get a taste of what life was like for both the Herbert family who lived there and their staff.
Muckross House was designed for Henry Arthur Herbert and his wife Mary Balfour Herbert by the Scottish architect William Burn. It was built between 1839 and 1843. The rooms are furnished in period style and look much as they would have in the days when the wealthy land-owning classes lived in such luxury.
On the occasion of the Royal visit to Ireland of Queen Victoria, Albert - the Prince of Wales, Prince Alfred, Princess Alice and Princess Helena, the Royal party spent one night in Killarney House and the subsequent two nights in Muckross House. In preparation for the Royal visit, elaborate preparations were made and extensive garden development undertaken.
The Traditional Farms show what life was like on a typical farm in Ireland in the 1930s and 40s. It was a time before electricity and before running water. It was the time of candles and oil lamps. Only hand tools were available. Water had to be fetched daily from a well. Horses did the heavy pulling work as there were no tractors. Come and see the farm house, the labourer's cottage and the farm animals. A separate ticket (or joint House and Farm ticket) is required to visit the Traditional Farms.
When you get hungry you can visit the Garden Restaurant where you can have a hot meal or just a light snack and enjoy the view of the Victorian Walled Garden.
Muckross House is located 6km from Killarney town centre. For information about visiting times, admission prices and further detail click the "More info" link below.
The National Park, Killarney, Co. Kerry, Ireland
52.018156561809,-9.504070799177
€9.00

There may be other price categories (possibly higher or lower) available. Click the 'More Info' button for details.