St Canice's Cathedral and Round Tower, Kilkenny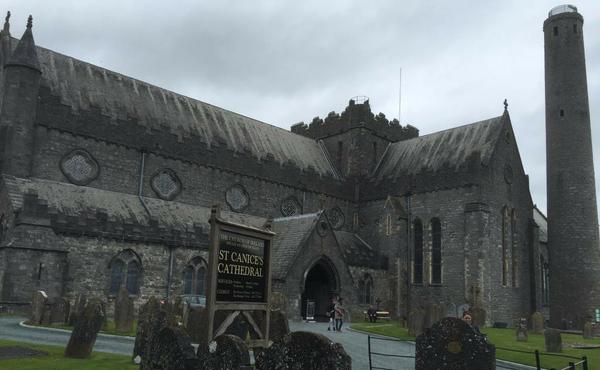 Named after St Canice, who lived during the 6th century, and after whom the city of Kilkenny gets its name (Cill Chainnigh = church of Canice) St Canice's Cathedral was built during the 1250s. The Round Tower, which can be climbed, offers a spectacular view of Kilkenny and the surrounding countryside.
The Cathedral is built in Early Gothic style and contains some fine examples of stone and wood carving dating back hundreds of years. Visitors should also take a look at the stained glass windows.
The Round Tower dates from the 9th century and is 30m (100ft) tall. When originally built it would have had a conical top. Today, reasonably fit visitors can climb to the top of the tower for a great view of the city. You need to be reasonably fit, not scared of heights, and wearing suitable footwear to undertake this climb.
At peak times there can be lengthy delays to climb the Round Tower. Best to arrive early (e.g. between 09:00 and 11:00 during the summer months).
St Canice's Cathedral and Round Tower are located about 600m north of Kilkenny Castle. Click the map pin icon to view the location on a map. Admission prices to the Cathedral and Round Tower can be purchased separately, but if you wish to visit both, the combination ticket is slightly cheaper.
For further details including admission prices and opening hours, click the "More info" button below.
The Close, Coach Road, Kilkenny, Co. Kilkenny, R95 V63H, Ireland
52.656678987053,-7.257222648866
€6.00

There may be other price categories (possibly higher or lower) available. Click the 'More Info' button for details.