Boland's Lock Keeper's House at 26th Lock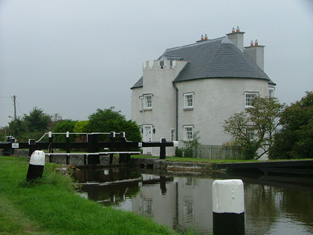 Round/oval house design with castellated front built by Michael Hayes circa 1800.
Located on the 26th Lock of the Grand Canal, "Boland's Lock" just outside of Tullamore, was built as a lock-keeper's house. During the period when the canal was a busy transport route for goods, the locks had keepers living nearby to operate them. In this case the lock keeper was Mr. Boland. It is a two-story building with an unusual combination of rounded ends and a projecting castellated (with battlements) bow to front. It features a hoodmoulding made of tooled limestone.
The very features that make this house special today are what caused great displeasure to the Canal Company directors. They refused to pay the extra 42 pounds for the extras associated with this house which they deemed to be extraordinary and unnecessary.
Is there a lesson for decision makers and purse-holders today? Are we, for the sake of a few quid, compelling architects and designers to build plain standard boxes, instead of allowing them a bit of slack to make something great, with a little flair or unusual feature, that will be admired by future generations?
This house would be of architectural interest to curious visitors interested in old and unusual buildings. A real hidden gem.
Boland's Lock Keeper's House is located 2km east of Tullamore on the Grand Canal Way.
Open for visitors (afternoons 12:00 to 16:00 weekdays) July & August.
Puttaghaun, Boland's Lock, Tullamore, Co. Offaly, R35 W940, Ireland
€2.00

There may be other price categories (possibly higher or lower) available.