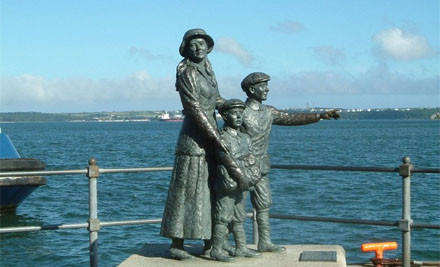 The Cobh Heritage Centre commemorates the role of Cobh (formerly Queenstown) and its harbour in some major historical events. These include the large levels of emigration on so-called "coffin ships" as a result of the great famine (1845-1852) and the sinking of the Titanic and the Lusitania. The displays inform of the hard times, tough conditions and loss experienced by the people of the time.
Between 1848 and 1950 6 million people emigrated from Ireland, with 2.5 million departing from Cobh. People were fleeing the Great Famine (1845-1852), starvation and poverty. The Centre tells the story of how Annie Moore and her two brothers left Ireland for a new and hopefully better life in America. She became the first immigrant to be processed on Ellis Island, New York.
Learn more about the Titanic, whose last port of call was Cobh, before setting out to cross the Atlantic ocean in 1912 and sinking after colliding with an iceberg.
The Centre also remembers the RMS Lusitania, sunk by a German U-boat off the Old Head of Kinsale on 7th May 1915 with the loss of 1,198 lives. The 700 people who were rescued, together with the dead, were brought ashore in Cobh. This is a story full of tragedy, survival, personal trauma and bravery.
The Cobh Heritage Centre leaves a lasting impression on the people to visit.
The Cobh Heritage Centre is located in the restored Victorian railway station in Cobh, 22km south east of Cork city.
Heritage Centre, Cobh, Co. Cork, Ireland
51.848821931898,-8.298933785757